Welcome to Chazanut.org!
The intention of this site is to inspire continued study of the great tradition of Classic Hazzanut (Chazonus). Course offerings include The Art of the Hazzan, Nusach for Shabbat and Holy Days, improvisation, composition, sight reading, music theory and analysis, and the music of Noah Schall, Moshe Ganchoff and the great Hazzanim of the Eastern European Tradition…

Visit our virtual museum of the Cantors of yesteryear and find links to all of the best Cantorial web resources available.
Hazzanim, Cantors, for many generations already, have been blessed with tremendous voices, and were often heard in Opera houses as well, as their voices rivaled the greatest of Opera Singers. A select few were able to forge success in both arenas!
It is our commitment, through this website, to inspire young Hazzanim to strive to have the vocal sophistication as those did in the Golden Age of Hazzonus.
I am in gratitude to the author, Haggai Efrati, for his contributions to the biographies of many of the Cantors/Hazzanim on the Website. If you would like to support his work, you may purchase the book through him directly: Haggai Efrati haggai@013.net
Find the latest sheet music, choral arrangements, settings and transcriptions of your favorite Cantorial music here!
Cantor David Moses Presler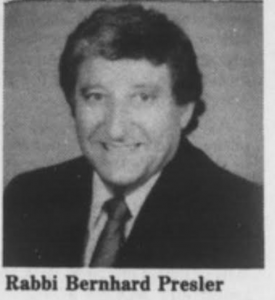 "I would like to dedicate this Website to the Memory of my father, Rabbi Bernhard Presler (Harav Dov Be'er ben Yosef), who gave me a love for Hazzonus. He always loved being a Hazzan, and led services in the Catskills after College before becoming a Rabbi. "Bernie" would always bring a tape recorder to the Cantor's Conventions and Concerts, and built up a large library of cassettes. May his memory be for a blessing!"